Register your account
To become a supplier on Meesho, all you need is:
Click here to create your account.

Once you complete your registration, you will have access to Meesho Supplier Panel. You can add your products, manage inventory, process orders and check your payment status on the Supplier Panel. To know more about the Supplier Panel of Meesho, check out this video below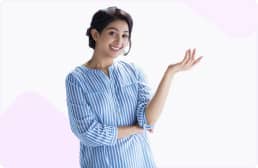 Learn how to use Meesho Supplier Panel
Understand how reselling works
What is reselling?
What sounds like a complex term is actually quite simple. A reseller is someone who purchases products from a wholesaler or a manufacturer and sells them directly to his/her customers after adding a margin to the price. Unlike a Meesho supplier, resellers need not own a shop or inventory.
How do resellers help suppliers in getting more orders?
Most of our resellers are housewives and students, who generally have a strong social network in their community. Resellers reach out to customers via social media such as WhatsApp, Facebook, Instagram, and other platforms. Reselling as a concept had existed in India for a while. However, the last few years have seen immense growth in social commerce platforms like Meesho.